Argento Reviewed by Jackie Hayden in Ireland's Hot Press Magazine
Winter Moods' latest album Argento has received a worthy review by music industry veteran Jackie Hayden in Ireland's top music magazine Hot Press.

Jackie Hayden is a leading music industry expert. As marketing manager with CBS Records (now Sony) Mr Hayden signed U2 to their first record contract. He has also masterminded marketing campaigns for countless acts, from Abba, Christy Moore, REM and U2 to Madonna and Santana.
Mr Hayden reviewed Argento in his column in the Hot Press magazine of February 24th. Calling it 'Winter Wonderland' he wrote, 'Winter Moods are a self-assured, all-male quintet worth checking out. There's an anthemic U2 feel to much of what they do on their album Argento. Opener 'Sun Won't Shine' could be an outtake from The Joshua Tree. It has a robust vocal and a fine sense of drama. 'That's Where I'd Rather Be' is slower and has a rugged undertow and lots of radio-friendliness. 'My Neverland' is a plaintive track that shakes off many of the U2-isms. It has warm strings, builds brilliantly with a passionate vocal and settles in nicely for a cosy few minutes.'
Hot Press is a leading and established publication about the music scene in Ireland, now in its 33rd year of publication. Twenty thousand copies of Hot Press are printed every two weeks. The magazine is distributed in the Republic of Ireland and Northern Ireland.
Argento was produced by David Vella at Temple Studios, mixed by Luuk Cox and mastered by John Davis at Metropolis Studios in London. The album, which is the band's fifth, was awarded as Best Album at the Malta Music Awards 2010, where Winter Moods also received the awards for Best Band, Best Song (My Neverland) and Best Songwriter (Ivan Grech).
Winter Moods' latest release from Argento – 'Forward To Yesterday' follows on the success achieved by earlier songs from this album, and is currently topping local radio charts.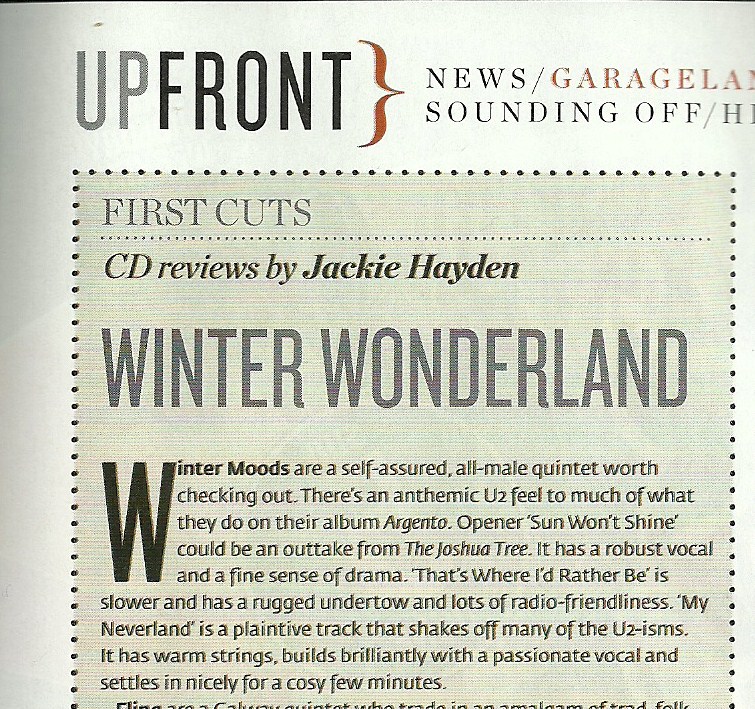 This entry was posted on Wednesday, March 2nd, 2011 at 1:56 am and is filed under
News
. You can follow any responses to this entry through the
RSS 2.0
feed. You can
leave a response
, or
trackback
from your own site.